Entrepreneurship and Small Business
ESB is the first certification product in the new Certiport Business Fundamentals Certification Program. The ESB exam is intended for use primarily in academic settings including secondary schools, vocational schools, community colleges, and technical colleges.
Candidates for ESB certification will be expected to have key conceptual knowledge of entrepreneurial and small business principles, although it is not required for students to have had real-world experience as a small business manager in order to take and pass the exam. Successful completion of this certification will validate skills and knowledge for those students interested in working in a middle-skill trade profession as their own boss and those with entrepreneurship and small business career aspirations.
Why should students study and seek certification in ESB?
Whether it is a beauty salon in a large metropolitan city, a taco shop in a booming resort location, or a car repair garage in the suburbs, an incredible number of small businesses can be found almost everywhere. In fact, in a recent report from Business.com, "every minute a new business is started in the U.S. and according to some, more than 50% of all workers will be self-employed by 2020 ." (The State of Small Business in America , 2015, Business.com, emphasis added.)
ESB certification engages and prepares students who will pursue additional postsecondary training or those who elect to enter the small business sector immediately upon high school graduation. The entrepreneurial concepts validated by this certification ensure that these students are college and career ready.
Why teach entrepreneurship?
Entrepreneurship education … teaches kids to think outside the box and nurtures unconventional talents and skills. Furthermore, it creates opportunity, ensures social justice, instills confidence, and stimulates the economy.
– Why Schools Should Teach Entrepreneurship, Entrepreneur, April 14, 2015
The full pathway solution to ESB certification
Through Certiport's full pathway solution you can prepare your students for the ESB certification with tailored learning materials, practice tests, and a performance-based certification exam officially endorsed by The Network for Teaching Entrepreneurship (NFTE). Adding these materials into your curriculum is easy and seamless.
Learn
ESB learning materials
The pathway to certification success
Preparing your students for certification is a big responsibility, so let Certiport make your job easier and more effective with specially-selected course materials and practice tests.*
Watch this brief video to see how learning products can work for you.
Recommended textbook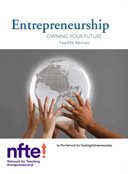 The recommended textbook for the ESB certification is Entrepreneurship: Owning Your Future, 12th Edition, published by The Network for Teaching Entrepreneurship (NFTE)
Entrepreneurship: Owning Your Future, High School Version, 12th Edition
By Network for Teaching Entrepreneurship (NFTE)
Published by Pearson
Copyright © 2016
Published Date: Jan 21, 2016
Product Detail: Teaches basic entrepreneurship concepts such as ideation, opportunity recognition, market research and analysis, business plan development, financial planning, and business management. Addresses the importance of thinking and acting with an entrepreneurial mindset in relation to business or any career. Aligns all chapters to business plan canvas creation or business plan development.
Description: Demystifies the process of starting a business by presenting difficult economic, financial and business concepts in a manner easily understood by beginners. Content is structured to take students through the entrepreneurial process – from the ideation stages and business opportunity validation through implementation and growth. Presenting various approaches to business planning, including using a business canvas in conjunction with business plans, it can be used as a professional resource for anyone looking to start their own business. Addresses the demands of career readiness standards through activities that teach career competencies and case studies that model what it means to have an entrepreneurial mindset.
*It is recommended to get at least 150 hours of instruction to prepare yourself to pass the ESB exam.
Practice
Practice tests materials
GMetrix practice tests
Performance based assessment and test preparation tools to help individuals achieve IT certification credentials. Many of your students will be anxious to assess their knowledge of applications prior to taking the certification exams. Additionally, we recognize the need for educators to properly assess an individual's knowledge. To this end, Certiport has partnered with GMetrix to deliver industry-leading practice tests. These tests, with included reporting and insight features, ensure your students are adequately prepared to their certification exam.
Why GMetrix practice tests?
Accurately replicate a "live application" testing environment
Enhance learning through self-paced practice questions
Build familiarity with the testing environment
Increase confidence towards certification exams
Better prepare students to pass certification exams
GMetrix practice tests are customizable
GMetrix practice tests are customizable, allowing you to create a highly-effective environment conducive to student-centered learning. GMetrix practice tests offer two different modes:
Testing mode:
Students experience what the certification exams will be like
Timed practice tests present scenarios to perform just like the actual certification exam
Training mode:
Students work at their own pace as they receive feedback and step-by-step instructions for each question
To purchase ESB GMetrix Practice Tests, please contact Certiport Sales for discounted pricing options.
Certify
Entrepreneurship and Small Business Certification
The ESB certification is built to test and validate foundation-level concepts and knowledge in entrepreneurship and small business management. These core concepts include entrepreneurship; recognizing and evaluating opportunities; planning for, starting, and operating a business; marketing and sales; and financial management.
Objective domains
The entrepreneur
Identify the characteristics of entrepreneurs
Given a scenario including a self-assessment outcome, identify the strengths, weaknesses, and risk tolerance the self-assessment identifies and how to compensate with services
Given a scenario, recognize a business opportunity
Identify the risks, benefits, opportunities, and drawbacks of being an entrepreneur
Opportunity recognition
Identify the benefits and drawbacks of different types of opportunities (e.g., start a new business, buy an existing business, and buy a franchise)
Given a scenario, analyze the demand for the goods or service and opportunities in an environment
Given a scenario, identify the customers or potential customers for a business
Given a scenario, recognize a value proposition
Starting a business
Identify the purposes and value of a business plan
Identify the appropriate legal structure, benefits and drawbacks for different legal structures for a business
Given a scenario, identify different types of licenses and regulations that are required
Identify the benefits and drawbacks of various sources of start-up funding: Equity (friends/family, angels, venture), Debt (bank, credit cards, personal loans), and Grants (government, foundation, corporate)
Given a scenario, identify support that is available for the business on a local, state, and federal level
Identify the ethical practices and social responsibilities of a business
Identify potential exit strategies for a business
Business operations
Given a scenario, identify key positions and human capital needs(including compensation and benefits)
Given a scenario, determine whether work can be completed by the owner or whether employees or service providers are needed
Given a scenario, identify the taxes that are required
Given a scenario, identify intellectual property issues of trademarks, copyrights, and patents
Given a scenario, identify standard operating procedures (e.g., setup, conduct, internal controls, separation of duties)
Given a scenario, identify the factors that lead to sustainability
Given a scenario, identify milestones as part of a growth strategy
Marketing and sales
Given a scenario, develop a sales strategy and identify characteristics of a successful sale
Given a scenario, identify and analyze the costs/benefits of finding customers/li>
Given a scenario, identify how to retain customers and develop a relationship with repeat customers/li>
Given a scenario, determine value and methods of communication including: web sites, brochures, social media, and advertising
Financial management
Given a scenario, interpret basic financial statements such as income statements and balance sheets
Given a scenario, identify the factors that influence credit ratings and the importance of a positive credit rating
Given a list of expenses, identify which are fixed versus variable
Given a scenario, identify the factors that impact the price to the customer
Given a scenario, identify and analyze cash flow including: accounts receivable, accounts payable, inventory, and debt
Given a scenario, create a cash flow budget
Given a scenario, identify the break-even point for the business
Download exam objectives
Success Stories
ESB success stories / My story
Positive student outcomes
Read this success story to learn about NFTE  and ESB certificaton.
The U.S. Department of Labor and the Network for Teaching Entrepreneurship (NFTE) both cite statistics that underscore the benefits of entrepreneurship education. These benefits include improved academic performance, school attendance, interest in completing their post-secondary education, an increase in occupational aspirations, as well as leadership behavior. (Encouraging Future Innovation: Youth Entrepreneurship Education, US Department of Labor.) A study by Grunwald Associates further suggests that when certification is added to curriculum, statistics such as academic performance, attendance, dropout rates, and grade point averages also improve. (Grunwald Associates LLC. (2012). Tracing Student Performance in Career and Professional Education: Technology Coursework Related to Better Attendance, Higher GPAs in Florida.)  
Badging
Digital badges
Digital badges are web-enabled versions of a credential, certification or learning outcome. Representing your credential as a badge gives you the ability to share your skills online in a way that is simple, trusted and can be easily verified in real time.
ESB Entrepreneurship and Small Business
Your ESB certification validates foundational-level understanding of core concepts related to starting or running a small business. Your digital badge makes it easy for you to promote these abilities to potential customers, investors, or even future employers on social media sites such as LinkedIn, Facebook and Twitter, as well as email and online portfolios. Individuals can click on your badge to verify and learn more about the details of your Entrepreneurship and Small Business knowledge and certification.
Endorsements
Endorsements
U.S. K12 DOE lists that Include ESB:
Georgia: ESB is an approved End of Pathway Assessment
Illinois, Chicago Public School District: ESB is a CTE Early Career Credential
Louisiana: ESB is the exam required to receive the statewide Micro-Enterprise Credential. To learn more, visit www.louisianabelieves.com and click on Micro-Enterprise Credential Fact Sheet.
North Carolina: ESB is the approved credential for the ME12 Entrepreneurship II course.
New York: ESB is on the "4+1" list and can be used as a pathway assessment leading to a diploma requirement. To learn more, visit www.p12.nysed.gov/.
Utah: ESB is an approved Industry Test in the state's CTE Skill Certificate Program. To learn more, visit schools.utah.gov/.
The ESB certification has been designed based on feedback and insights gathered from an official ESB Advisory Board, which includes the following organizations and individuals:
Dave Lefkowith, Lousiana Department of Education
Jenny Bradbury, Network for Teaching Entrepreneurship
Tom Gold, Network for Teaching Entrepreneurship
Gene Coulson, Consortium for Entrepreneurship Education
Angela Pate, CareerSource North Central Florida
James Wilcox, Mississippi Council of Economic Education
Phyllis Frankfort, Working in Support of Education
The following organizations are official endorsers of the Entrepreneurship and Small Business certification:
The Network for Teaching Entrepreneurship (NFTE)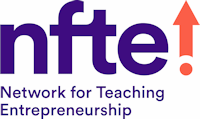 Network for Teaching Entrepreneurship (NFTE) is an international nonprofit that activates the entrepreneurial mindset in young people and builds their knowledge about business startup. Students acquire the entrepreneurial mindset (e.g., innovation, self-reliance, comfort with risk), alongside business, STEM, and presentation skills-equipping them to drive their best futures in the 21st Century. NFTE focuses its work on under-resourced communities, with programs in 23 locations in 10 countries.
To learn more, visit www.nfte.com, like NFTE on Facebook at www.Facebook.com/NFTE, or follow us on Twitter at @NFTE.
The American Council on Education (ACE)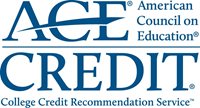 The American Council on Education (ACE) is the USA's unifying voice for higher education. ACE serves as a consensus leader on key higher education issues and seeks to influence public policy through advocacy, research, and program initiatives. ESB has earned an ACE credit recommendation for college education in general education or computing literacy. From this, students can seek credit from more than 1,800 accredited, degree-granting colleges, universities, and other education-related organizations that are members of ACE.
To learn more about the ACE endorsement, visit http://www2.acenet.edu/credit/?fuseaction=browse.getOrganizationDetail&FICE=300514.
Buy / contact sales
We understand that every organization differs in their purchasing requirements. If you are interested in buying learning, practice or certification materials for any of our certification programs, select from the below options: