Adobe Certified Associate (ACA)
Because creativity can change the world
Adobe Certified Associate (ACA) certification is the perfect place to recognize and inspire creativity in your students. It allows students to approach tasks and projects in new ways, working out solutions they couldn't have seen before; and helping you as a teacher become involved with your student's creative process on a new level.
ACA certification offers your students a foundation for success by validating their digital skills, and offering you the ability to assess your student's progress, engagement, and involvement.
Value of ACA certification
Edelman Intelligence recently conducted in-depth research on the impact ACA certification can have on the success of an aspiring creative professional.
Download report
Key benefits
Measure success by incorporating exams into current courses
Prove students hands-on knowledge through authentic assessment of application experience
Meet the popular demand to validate skills in the Adobe applications
Take advantage of today's industry standard digital software and official Adobe certification
Enhance your courses with free curriculum from Adobe Education, which maps to the exam objectives
Resources to learn, practice, certify, and share
Through Certiport's full pathway solution you can prepare your students for ACA certification with tailored learning materials, practice tests, and Adobe endorsed certification exams. Adding these materials into your curriculum is easy and seamless.
View the Adobe Certified Associate exam demo
Learn
Learning materials for ACA certification
Pathway to certification
Preparing your students for certification is a big responsibility, so let Certiport make your job easier and more effective with ACCLAIMED course materials and practice tests.
Adobe study packets
In preparation for the Adobe Certified Associate certification exams, Certiport and Adobe have put together a set of practice materials* and example exam items for you to review. These study materials were developed to help students and educators familiarize themselves with the key areas of the certification exam.
What you'll find in this packet are:
Topic areas and objectives for the exam
Practice materials with image assets
Practice exam item
Download the Adobe Certified Study packets here.
Curriculum and courseware
ACA Test Prep (Brainbuffet)
ACATestPrep provides targeted video-based tutorials for Adobe Creative Cloud products. Content-rich projects allow students to train by practicing using the software. Self-paced learning allows students to learn at their own rate to ensure they fully grasp the concepts and gain the skills necessary to pass the Adobe Certified Associate exams.
Video-based tutorials
Hands-on guided activities
Self-paced learning
Aligns with Adobe Certified Associate exams
Available for: Animate, Dreamweaver, Illustrator, InDesign, Photoshop, Premier Pro
LearnKey
LearnKey is a premier global provider of self-paced education and training solutions for education, veterans, corporate/government, and personal users. For over two decades, LearnKey's mission has been to create flexible expert learning solutions – solutions that work for everyone because they are not only easy to use, but they are extremely engaging and interactive. LearnKey brings the classroom experience to you – where and when you need it.
Video-based e-learning courseware
Interactive labs
Prescriptive study guides
Available for: Dreamweaver, Flash, Illustrator, InDesign, Photoshop, Premier Pro
Pearson MyLab – Graphics
Give your students practical and creative hands-on experience with fresh and innovative projects available through Pearson MyLab. Each gradable project comes with step-by-step instructions and downloadable project files that reinforce software skills and techniques. Students can build their portfolios with finished files and you can utilize projects in class to demonstrate key techniques.
Instructional video tutorials
Introductory presentations
Customizable assessments
Available for: Dreamweaver, Flash, Illustrator, InDesign, Photoshop, Premier Pro
Pearson Learn ACA Series
This study guide uses more than 6 hours of video integrated with text to help Students gain real-world skills to get started with Adobe Creative Cloud. It lays the foundation for taking the Adobe Certified Associate (ACA) exams.
Integrated video tutorials
Available for: Animate, Dreamweaver, Illustrator, InDesign, Photoshop, Premier Pro
Pearson Classroom in a Books Series
This best-selling series of hands-on software training books teaches the features of Adobe software quickly and easily. Developed by the training experts at Adobe Systems, these books offer complete, self-paced lessons designed to fit your busy schedule and help you learn the features of Adobe software quickly and easily. Each book includes downloadable files to guide you through the lessons and special projects.
Integrated video tutorials
Available for: After Affects, Lightroom, Muse, Animate, Dreamweaver, Illustrator, InDesign, Photoshop, Premier Pro
Wiley: Digital Classroom
You may be eager to learn how to use Adobe Creative Cloud tools, but you'd like to tackle it at your own speed. If so, this book-and-DVD learning combo is perfect for you. Engaging lessons, each including step-by-step instructions and lesson files backed by video tutorials, help you build solid skills at your own pace.  It's like having your own personal instructor at your side.
Textbook (eBook or paperback)
Integrated video tutorials on DVD
Available for: Dreamweaver, Flash, Illustrator, InDesign, Photoshop, Premier Pro
View the Adobe Certified Associate exam demo
Practice
Practice tests for ACA certification
GMetrix practice tests
Performance based assessment and test preparation tools to help individuals achieve IT certification credentials. Many of your students will be anxious to assess their knowledge of applications prior to taking the certification exams. Additionally, we recognize the need for educators to properly assess an individual's knowledge. To this end, Certiport has partnered with GMetrix to deliver industry-leading practice tests. These tests, with included reporting and insight features, ensure your students are adequately prepared to their certification exam.
Why GMetrix practice tests?
Accurately replicate a "live application" testing environment
Enhance learning through self-paced practice questions
Build familiarity with the testing environment
Increase confidence towards certification exams
Better prepare students to pass certification exams
GMetrix practice tests are customizable
GMetrix practice tests are customizable, allowing you to create a highly-effective environment conducive to student-centered learning. GMetrix practice tests offer two different modes:
Testing mode:
Students experience what the certification exams will be like
Timed practice tests present scenarios to perform just like the actual certification exam
Training mode:
Students work at their own pace as they receive feedback and step-by-step instructions for each question
Practice tests available for:
Adobe Animate CC
Adobe Dreamweaver CC, CS6
Adobe Flash CC, CS6
Adobe InDesign CC, CS6
Adobe Illustrator CC, CS6
Adobe Photoshop CC, CS6
Adobe Premiere Pro CC, CS6
Certify
Because creativity can change the world
ACA certification is an industry-recognized credential that effectively validates one's skills in Adobe digital-media software. Get certified in the following:
Adobe Animate
Adobe Dreamweaver
Adobe Flash
Adobe Illustrator
Adobe InDesign
Adobe Photoshop
Adobe Premiere Pro
Note: All exam languages can be viewed on the exam releases page.
Prove that you have the skills to work with multiple Adobe software applications. Earn three Adobe Verified Association certifications and you will receive an ACA Specialist certificate for Web or Visual Design.
*These materials are not comprehensive across all the exam objectives.
Multiplatform animation using Adobe Animate CC
With the evolution from Flash Professional to Animate CC, the Adobe Certified Associate certification is also changing. The Adobe Animate CC exam incorporates the updates and enhancements found in the new software. The Animate CC exam validates an individual's skills using the premier animation tool. The ACA Animate CC exam proves a student has the skills necessary to create dynamic and engaging content required for a career in animation and design.
ACA Animate CC certification is available for Creative Cloud (CC) version of Adobe software.
Web authoring using Adobe Dreamweaver
Adobe Dreamweaver software is the industry standard for creating and editing compelling HTML rich media websites and mobile apps. Through the use of Fluid Grid Layout, designers construct complex web designs with adaptive layouts for a whole new level of cross-platform compatibility.
Interactive media using Adobe Flash Professional
Adobe Flash Professional is a powerful authoring environment for creating animation and multimedia content. Users design immersive interactive experiences that present consistently across desktops and multiple devices, including tablets, smartphones, and televisions.
Graphic design & illustration using Adobe Illustrator
Adobe Illustrator software is the industry's premier vector-drawing environment for creating scalable graphics. Digital media gurus bring their unique vision to life with shapes, color, effects, and typography by using a host of powerful functions to make fast work of their most complex designs.
Print & digital media publication using Adobe InDesign
Adobe InDesign is a powerful tool that sets the industry's new standard for print and digital page layout. Offering pixel-perfect control over design and typography, users can create elegant and engaging page layouts for print or digital media. And with so many powerful new features, certified students verify more advanced skill using InDesign than their non-certified peers.
Visual design using Photoshop
Adobe Photoshop is the industry-standard image editing software, used worldwide by professional photographers, amateur photographers, and designers who want to perfect their digital images by going beyond what is captured by the camera.
Digital video using Adobe Premiere Pro
With the rapid advancement of video and multi-media technology, Adobe Premiere Pro helps produce and edit productions more fluidly than ever before. And users don't need a box-office budget to back their next great feature film—just the skills.
Success Stories
Certification leads to success
Certiport and Adobe believe that everyone with an ACA certification has a story to share that can motivate, inspire and encourage others to succeed.
ACA certified student receives internship after winning Adobe Certified Associate World Championship. Learn how the Adobe Certified Associate World Champion was contacted by a regional advertising agency and offered an internship. "When I read that Kai had 8 hours to complete the competition, I knew she could work on our timetables and she has done a great job," says Kristen Hart who works at R&R Partners Designer.
Brevard Public Schools is testing 200 students per year and they are averaging an impressive 94 percent passing rate.
View the PDF
Brooklyn Technical High School is helping students get the skill set they need to go into professional industry, and the Adobe Certified Associate certification is a key piece of their program.
More student and teacher stories
Becoming certified in Adobe ACA has helped me in my work for major educational projects in the city. I have certified more than 100 teachers and 600 students from different schools. My certifications have helped me to demonstrate my skills in handling the software and to improve my working conditions.
– Laura Hincapie Gil, Madellin, Columbia

As both an instructor and working artist, the training and certification has expanded my knowledge, confidence and opportunities for career advancement. It has made me a better classroom instructor and designer. In the future, I would like to set up my school as an official training center to give my students and other staff members the opportunity to become Adobe certified.
– David G. Brown, Los Angeles, California

As soon as I received my certifications, I started job hunting. Having these certifications gave me a distinct advantage and I was hired within a matter of days to work as a junior graphic designer for a well-known printing company.
– Renae Dawson, Roleystone, Australia

As a teacher of Digital Media, which includes Photoshop and Illustrator, I thought I knew all there was to know; however, when preparing for this exam I really learned so much more about the software and design techniques and realized I was not using the software to its full potential. Now that I have passed two of the exams, I have become aware that as a result of the exam prep I am able to offer my students so much more.
– Lawanta Ramsey, Stillwater, Oklahoma

Getting my ACA certification has made all the difference in my education and my career! Because I was trained early on, I was able to attend Full Sail University with confidence. I received my BS in Digital Art and Design. It was a dream come true attending that college and it wouldn't have been possible without dedication and a natural talent that came with being trained through ACA certification. I'm currently starting my own business.
– Michael Gribbin, Post Falls, Idaho
Badging
ACA digital badges
When you earn one of the ACA certifications listed here you will be notified about the availability of a corresponding ACA digital badge. Use your ACA digital badges to tell potential employers, academic institutions, colleagues and peers about your ACA credentials.
Digital badges provide an easy way for ACA-certified individuals to present their credentials to the world, especially through social media. There are currently several ACA digital badges available. Find out more about ACA digital badges on Acclaim.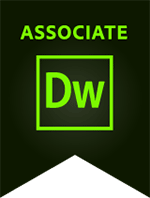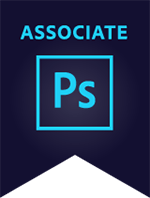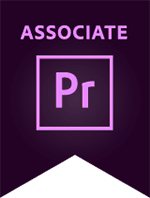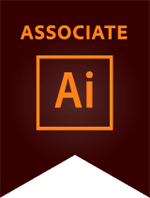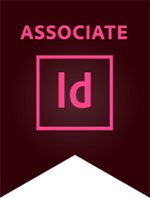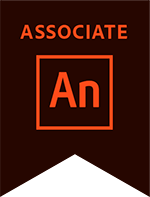 Flash your badge
Acclaim is the digital badging platform used by Certiport. It helps students move forward professionally by quickly establishing credibility for opportunities in higher education and the job market. Each badge contains verifiable data that tells employers and admission committees what you did, who says you did it, and why it matters. What does this mean for you? Watch the video to find out.
Competitions
The Adobe Certified Associate (ACA) World Championship presented by Certiport, Inc. is a global competition that tests students' design skills using Adobe Photoshop, Illustrator and InDesign. Top students are invited to represent their respective countries at the World Championship where they will create a designated design project for Certiport's chosen nonprofit client. In some countries or regions, students are required to participate in a National Championship, and the winners of that event continue on to the World Championship.
---
In its fifth year, the 2017 Adobe Certified Associate World Championship attracted more than 110,000 unique candidates from 67 countries who competed to demonstrate their mastery of Adobe products. Forty-seven student finalists participated in the final round of competition. Student competitors designed a printable poster and digital poster for Iridescent, a science, engineering and technology education nonprofit organization that empowers underrepresented youth to become self-motivated learners, inventors and leaders.
You'd never believe these designers are students.
Buy / contact sales
We understand that every organization differs in their purchasing requirements. If you are interested in buying learning, practice or certification materials for any of our certification programs, select from the below options: